By Tony Munos, Instructor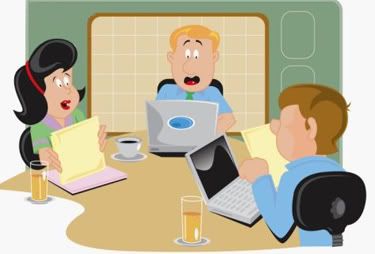 According to
Thirteen.org
, collaborative learning is "a method of teaching and learning in which student's team together to explore a significant question or create a meaningful project." Another source states that cooperative or collaborative learning is "a team process where members support and rely on each other to achieve an agreed-upon goal."
We use a form of collaborative learning in our Master's of Science in Project Management Program (MSPM) at UW-Platteville. As the class begins to form, groups or teams are designated to begin working on an icebreaker assignment. The icebreaker assignment serves two purposes. One is to introduce students to one another. They begin by exchanging information about themselves as well as their experiences in project management. The second is to work collaboratively as they prepare their team assignment. Another task they complete is to establish specific roles that each member will perform for the remaining class assignments. Each member then rotates between specific roles for each of the remaining group assignment.
At another school at which I teach, an entirely different form of collaborative learning is used. Rather than work as teams, each class member is assigned to respond to one of our weekly activities during the course. During the initial two weeks of class, I enter at least three activities or discussion topics for our weekly class discussions. Beginning in week three and continuing throughout the course, I continue to enter three activities, and each class member is then assigned to provide a response to each of their fellow submissions for one activity.
This accomplishes a couple of learning experiences. Initially, the early assignees need to read the weekly textbook material plus the material in a study guide in order to provide an adequate response. As their classmates enter their responses to the assigned weekly activities, the class member with responsibility to respond, has to now read each of the entries. This really engages the student in learning. Previously, they might read the material in the textbook and the study guide, and then provide their response to the activity. They may or may not read their fellow students postings. Now they begin to get engaged in the class.
This also provides each student with an opportunity to share their knowledge and experience with their fellow class members. Once the initial engagement is made, the class members begin to be more open and responsive in the class. They also begin to more readily share their knowledge and experience with their classmates. Their posts become more friendly but still professional. So we begin to move into a cooperative learning environment.
As we progress through the next weeks, a rapport begins to develop between the students. Those with early responsibilities to respond are now engaged as they now share their knowledge and experience with their classmates and collaborative learning is occurring without any formal announcement.
At another university at which I teach, I employ a somewhat similar form of collaborative learning. Rather than have a specific student provide responses to their fellow student posts, each student provides only comments to at least two of their fellow student weekly postings. However, they must still read the majority of the postings to select the one that they want to respond to. Initially, the students are somewhat hesitate and their comments are somewhat terse. But as others begin to provide their submissions to the topic or their comments, the comments become more specific in nature and friendly. They begin to ask questions regarding a specific submission or validate what another student has stated. In one class that I'm teaching, the posts to one weekly activity has already reached more than 100 individual posts. The two other weekly activities are fast approaching the 100 mark as well. And this is for our initial class week!
These students are definitely engaged in collaborative learning as their interests and contributions are valued by their fellow students. They're drawing upon their past experiences and knowledge and readily sharing with their fellow classmates. Even those with little experience in a particular topic share as well. One of the key benefits of collaborative learning is the interpersonal relationships being formed as they form a positive attitude about the subject matter.
Outside the classroom, we've all been associated with one form or another of collaborative learning since we were very young. How else did we learn to tie our shoes, learn to play a game, or do other things we now take for granted? Someone shared their knowledge and experience with us and we began to learn. We may not have realized that collaborative learning was occurring, but it was. And we continue today not only in our classes but in our daily lives as well. Collaborative learning takes many forms and it will continue to provide those positive learning experiences for us.
So the next time you're assigned to a group project of some sort, remember those positive aspects of working together. "Collaborative learning brings positive results such as deeper understanding of content, increased overall achievement in grades, improved self-esteem, and higher motivation to remain on task". It also provides you with the means to take ownership of your own learning!
Labels: Faculty and Staff Stories