One key to success as a distance learning student is
to stay abreast of important financial and academic deadlines.
On the
UW-Platteville distance education home page
, we provide two tools to help students track deadlines: the
Calendar
and
RSS Feeds.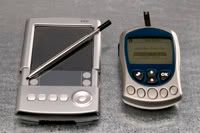 If you have a PDA or another digital tool that allows you to track dates by inputting the information, you may refer to the
Calendar
to record important dates for the Spring and Summer 2007 semesters. If, however, you do not have a personal digital tool and/or prefer information to be presented on a more "need-to-know" basis, you may subscribe to the
RSS Feed
instead. With this subscription, you may review upcoming deadlines using a RSS reader. (We recommend the simple-to-use
Google Reader
.)
The
UW-Platteville's Financial Aid Office
has created an
Online Calendar
for those who are interested in applying for financial aid.